Definition of Barge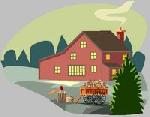 Barge
A horizontal beam rafter that supports shorter rafters.


---
Related Terms:
A decorative board covering the projecting rafter (fly rafter) of the gable end. At the cornice, this member is a fascia board.


---
Any board or molding found at the bottom of an interior wall.


---
Measurement of lumber that is the equivalent of 144 cubic inches.


---
Plywood substitute made of course sawdust that is mixed with resin and pressed into sheets. Used for closet shelving, floor underlayment, stair treads, etc.


---
A horizontal board that serves as the apex of the roof structure.


---
A manufactured wood panel made out of 1"- 2" wood chips and glue. Often used as a substitute for plywood in the exterior wall and roof sheathing.


---
A trim board that is installed beneath a window sill.


---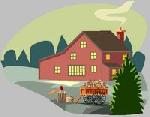 Overhang of a pitched roof, usually consisting of a fascia board, a soffit and appropriate trim moldings.


---
Horizontal boards attached to rafter/truss ends at the eaves and along gables. Roof drain gutters are attached to the fascia.


---
Slightly wedge-shaped boards used as horizontal siding in a lapped pattern over the exterior sheathing. Varies in butt thickness from ½ to ¾ inch and in widths up to 12".


---
A groove cut in a board to receive another board.


---
Vertical boards between the steps of a stairway.


---
Bent, galvanized metal flashing that is installed above a horizontal trim board of an exterior window, door, or brick run. It prevents water from getting behind the trim/brick and into the home.


---
Related to : home, mortgage, insurance, homebuyer, real estate, property, buy home, home insurance, financing, home financing, home buyer, first time homebuyer, homes, homebuying, credit, condo.