Definition of Built-Up Roof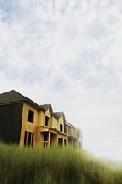 Built-Up Roof
A roofing composed of three to five layers of asphalt felt laminated with coal tar, pitch, or asphalt. The top is finished with crushed slag or gravel. Generally used on flat or low-pitched roofs.


---
Related Terms:
The creditor proof status of such things as life insurance, non-registered life insurance investments, life insurance RRSPs and life insurance RRIFs make these attractive products for high net worth individuals, professionals and business owners who may have creditor concerns. Under most circumstances the creditor proof rules of the different provincial insurance acts take priority over the federal bankruptcy rules.
The provincial insurance acts protect life insurance products which have a family class beneficiary. Family class beneficiaries include the spouse, parent, child or grandchild of the life insured, except in Quebec, where creditor protection rules apply to spouse, ascendants and descendants of the insured. Investments sold by other financial institutions do not offer the same security should the holder go bankrupt. There are also circumstances under which the creditor proof protections do not hold for life insurance products. Federal bankruptcy law disallows the protection for any transfers made within one year of bankruptcy. In addition, should it be found that a person shifted money to an insurance company fund in bad faith for the specific purpose of avoiding creditors, these funds will not be creditor proof.


---
This is a very common form of life insurance which is found in employee benefit plans and bank mortgage insurance. In employee benefit plans the form of this insurance is usually one year renewable term insurance. The cost of this coverage is based on the average age of everyone in the group. Therefore a group of young people would have inexpensive rates and an older group would have more expensive rates.
Some people rely on this kind of insurance as their primary coverage forgetting that group life insurance is a condition of employment with their employer. The coverage is not portable and cannot be taken with you if you change jobs. If you have a change in health, you may not qualify for new coverage at your new place of employment.
Bank mortgage insurance is also usually group insurance and you can tell this by virtue of the fact that you only receive a certificate of insurance, and not a complete policy. The only form in which bank mortgage insurance is sold is reducing term insurance, matching the declining mortgage balance. The only beneficiary that can be chosen for this kind of insurance is the bank. In both cases, employee benefit plan group insurance and bank mortgage insurance, the coverage is not guaranteed. This means that coverage can be cancelled by the insurance company underwriting that particular plan, if they are experiencing excessive claims.


---
A type of insurance policy or annuity in which the owner receives dividends, typically increases the death.


---
A roof that consists of two sloping planes that meet at the ridge or peak. The planes are supported at their ends by triangular, upward extensions of walls known as gables.


---
---
An electrical device used to prevent injury from contact with faulty electrical appliances and faulty wiring
electrical shocks. GFIs should not be confused with AFIs, the later are designed to prevent electrical fires. GFIs are required in new home bathrooms, kitchen, garage, out of doors and in other locations where one might be in contact with a grounded surface or body of water and an electrical appliance. Most GFI's are located in the receptacle itself or a curcuit breaker and can be identified by the presence of a 'test' and a 'reset' button.


---
A pitched roof with sloping sides.


---

16" or 24" wire rod or crisscrossed wire to hold floor insulation in place.


---
The "V" created where two sloping roofs meet.


---
A louver or small dome mounted near the ridge of the roof to allow the passage of air through the attic.


---
A roof that pitches up further on one side than the other. Shed roofs are also used over some porches.


---
A house built without prefabricated parts. Also called conventional building.


---
Related to : home, mortgage, insurance, homebuyer, real estate, property, buy home, home insurance, financing, home financing, home buyer, first time homebuyer, homes, homebuying, credit, condo.