Definition of Roof Vent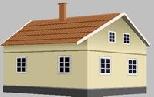 Roof Vent
A louver or small dome mounted near the ridge of the roof to allow the passage of air through the attic.


---
Related Terms:
vent opening located in the soffit under the eaves of a house to allow the passage of air through the attic and out the roof vents.


---
A condition which can occur with snow and freezing conditions. When snow or ice melts on a roof over a heated or partially heated attic space, the melting water may refreeze over an unheated areas such as a roof overhang. This re-frozen water may create a "dam" and allow additional melt water to back up under shingles and cause leaks (Illustration "A"). Solutions include: proper roof venting and insulation (Illustration "B"), membrane roofing or roofing underlayment, and heat tapes. Once an ice dam occurs, remedies are difficult and or dangerous. Working on a frozen roof should be avoided, as should the use of any open flames. The use of hot water to melt the ice may help, it may also increase the amount of leakage.


---
The creditor proof status of such things as life insurance, non-registered life insurance investments, life insurance RRSPs and life insurance RRIFs make these attractive products for high net worth individuals, professionals and business owners who may have creditor concerns. Under most circumstances the creditor proof rules of the different provincial insurance acts take priority over the federal bankruptcy rules.
The provincial insurance acts protect life insurance products which have a family class beneficiary. Family class beneficiaries include the spouse, parent, child or grandchild of the life insured, except in Quebec, where creditor protection rules apply to spouse, ascendants and descendants of the insured. Investments sold by other financial institutions do not offer the same security should the holder go bankrupt. There are also circumstances under which the creditor proof protections do not hold for life insurance products. Federal bankruptcy law disallows the protection for any transfers made within one year of bankruptcy. In addition, should it be found that a person shifted money to an insurance company fund in bad faith for the specific purpose of avoiding creditors, these funds will not be creditor proof.


---
A mortgage that does not exceed 80% of the purchase price of the home. Mortgages that exceed this limit must be insured against default, and are referred to as high-ratio mortgages (see below).


---
Screened openings in houses to allow for ventilation of an attic space.


---
A roofing composed of three to five layers of asphalt felt laminated with coal tar, pitch, or asphalt. The top is finished with crushed slag or gravel. Generally used on flat or low-pitched roofs.


---
An opening to allow the passage of air through the unexcavated area under a first floor. Ideally there should be at least two vents per crawlspace.


---

A roof that consists of two sloping planes that meet at the ridge or peak. The planes are supported at their ends by triangular, upward extensions of walls known as gables.


---
A louver mounted in the top of the gable to allow the passage of air through the attic.


---
A pitched roof with sloping sides.


---
A vent mounted along the entire ridge line of the roof to allow the passage of air through the attic or cathedral ceiling.


---
The "V" created where two sloping roofs meet.


---
A roof that pitches up further on one side than the other. Shed roofs are also used over some porches.


---
Creates a positive flow of air that allows the house to "breathe" and helps prevent moisture build-up year-round.


---
Device to help achieve a ventilation space between insulation and roof sheathing. It helps assure air flow from the eave vents in attics and cathedral ceilings.


---
Flashing
The building component used to connect portions of a roof, deck, or siding material to another surface such as a chimney, wall, or vent pipe. Often made out of various metals, rubber or tar and is mostly intended to prevent water entry.


---

Soffit
The underside of the roof overhang or porch ceiling that covers the rafter bottoms. This horizontal surface usually has vents to allow air into the attic.


---
Related to : home, mortgage, insurance, homebuyer, real estate, property, buy home, home insurance, financing, home financing, home buyer, first time homebuyer, homes, homebuying, credit, condo.