Definition of Anchor Bolt

Anchor Bolt
bolt to secure a wooden sill plate to concrete, masonry floor or wall.


---
Related Terms:
Corrugated metal or concrete barrier walls installed around a basement window to hold back the earth.


---
Framed walls (generally over 10' tall) that run the entire vertical length from the floor sill plate to the roof. This is done to eliminate the need for a gable end truss.


---
The lowest horizontal member of a wall which rests on the rough floor, to which the studding is nailed.


---
Rounded drywall corners.


---
A hollow concrete 'brick' often 8" x 8" x 16" in size. Often used in low rise commercial and some residential construction. The original design and use is attributed to the architect Frank Lloyd Wright.


---
The triangular end of an exterior wall above the eaves formed under a gable roof.


---
---

A wall-like structure that supports roof rafters.


---
Includes all exterior walls and any interior wall that is aligned above a support beam or girder. Normally, any wall that has a double horizontal top plate.


---
A wall supporting no load other than its own weight.


---
Pieces of wood placed on wall surfaces as fastening devices. The bottom member of the wall is the sole plate and the top member is the rafter plate.


---
See Bottom plate.


---
The structural material that spans across floor joists. It serves as a working platform during construction and provides a base for the finish floor.


---
The horizontal member nailed to the top of the studding of a wall.


---
A passive solar wall, usually masonry or concrete, used for passing heat from one room (like a sun room or solar garden room) to another.


---
Wall Out
When a painter spray paints the interior of a home.


---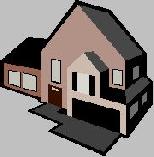 Yard of Concrete
One cubic yard of concrete is 3' x 3' x 3' in volume, or 27 cubic feet. One cubic yard of concrete will pour 80 square feet of 3 ˝" sidewalk or basement/garage floor.


---
Related to : home, mortgage, insurance, homebuyer, real estate, property, buy home, home insurance, financing, home financing, home buyer, first time homebuyer, homes, homebuying, credit, condo.