Definition of Braced Framing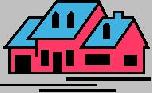 Braced Framing
A construction method in two-story homes in which the frame is reinforced with posts and braces.


---
Related Terms:
framed walls (generally over 10' tall) that run the entire vertical length from the floor sill plate to the roof. This is done to eliminate the need for a gable end truss.


---
An outside wall of a room or building that rises above an adjoining roof and contains windows.


---
All drawings, specifications and addenda associated with a specific construction project.


---
A system of large tubes, pipes or channels (ducts) designed to deliver air to and from a furnace or other air-handling unit.


---
The carpenter contractor that installs the lumber and erects the frame, flooring system, interior walls, backing, trusses, rafters, decking, installs all beams, stairs, soffits and all work related to the wood structure of the home. The framer builds the home according to the blueprints and must comply with local building codes and regulations.


---
---
Related to : home, mortgage, insurance, homebuyer, real estate, property, buy home, home insurance, financing, home financing, home buyer, first time homebuyer, homes, homebuying, credit, condo.