Definition of Circuit Breaker

Circuit Breaker
A device which looks like a switch and is usually located inside the electrical panel or circuit breaker box. It is designed to (1) shut of the power to portions or all of the house and (2) to limit the amount of power flowing through a circuit (measured in amperes). 110 volt household circuits require a fuse or circuit breaker with a rating of 15 or a maximum of 20 amps. '220' volt circuits may be designed for higher amperage loads e.g. a hot water heater may be designed for a 30 amp load and would therefore need a 30 amp fuse or breaker. also see GFI


---
Related Terms:
A wiring scheme in which device A is wired to device B, device B is wired to device C, etc. The last device is normally wired to a switch or circuit breaker.


---
A device often found in older homes designed to prevent overloads in electrical lines. See circuit breakers.


---
This means that there are two or more life insured on the same policy but the death benefit is paid out on the last person to die. The cost of this type of coverage is much less than a first to die policy and it is generally used to protect estate value for children where there might be substantial capital gains taxes due upon the death of the last parent. This kind of policy is also valuable when one of two people covered has health problems which would prohibit obtaining individual coverage.


---
This is the maximum value of a policy that an insurance company will issue without the applicant taking a medical examination, although medical questions are invariably asked during the application process. When a non-medical issue is made through group insurance, in most cases, medical data is not requested at all.


---
This is the person who owns a life insurance policy. This is usually the insured person, but it may also be a relative of the insured, a partnership or a corporation. There are instances in marriage breakup (or relationship breakup with dependent children) where appropriate life insurance on the support provider, owned and paid for by the ex-spouse receiving the support is an acceptable method of ensuring future security.


---
The amount of money the company must spend on overhead, distribution, taxes, underwriting the risk and servicing the policy. It is a factor in calculating premium rates.


---
Gross household income is the total salary, wages, commissions and other assured income, before deductions, by all household members who are co-applicants for the mortgage.


---

An IRD amount is a compensation charge that may apply if you pay off your mortgage principal prior to the maturity date or pay the mortgage principal down beyond the prepayment privilege amount. The IRD amount is calculated on the amount being prepaid using an interest rate equal to the difference between your existing mortgage interest rate and the interest rate that we can now charge when re-lending the funds for the remaining term of the mortgage. For more information, click on compensation amounts.


---
One of a row of houses connected with common side walls.


---
A sum of money set aside in the construction contract for items which have not been selected and specified in the construction contract. For example, selection of tile as a flooring may require an allowance for an underlayment material, or an electrical allowance which sets aside an amount of money to be spent on electrical fixtures.


---
See ampere


---
A unit of electrical current or volume--see "voltage." Most homes have an electrical service 'entrance' package of 125 or 200 amps. Some older homes have 60 or 100 amp 'entrances'.


---
See ampere


---
Corrugated metal or concrete barrier walls installed around a basement window to hold back the earth.


---
A transformer that steps up the voltage in a florescent lamp.


---
Balloon
A loan that has a series of monthly payments with the remaining balance due in a large lump sum payment at the end.


---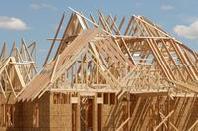 Balloon Framed Wall
Framed walls (generally over 10' tall) that run the entire vertical length from the floor sill plate to the roof. This is done to eliminate the need for a gable end truss.


---
Basement Foundation
A basement is a usable foundation that typically has ceiling heights of 8' and is often finished off as living or storage space.


---
Bull Nose Drywall
Rounded drywall corners.


---
Crawlspace Foundation
The space between the ground and the first floor of a home, usually no higher than four feet.


---
Electrical Rough
Work performed by the electrical Contractor after the plumber and heating contractor are complete with their phase of work. Normally all electrical wires, and outlet, switch, and fixture boxes are installed (before insulation).


---
Electrical Service Panel
Refers to the high-voltage electrical system's first point of entry into a home beyond the meter.


---
Entry Box
See electrical Service Entry


---
Gable End Wall
The triangular end of an exterior wall above the eaves formed under a gable roof.


---
GFI -See Ground Fault Current Interrupter
---
High Voltage System
See Electricity.


---
aterial used to cover the interior framed areas of walls and ceilings
---
Knee Wall
A wall-like structure that supports roof rafters.


---
Lath and Plaster
The most common wall finish prior to the introduction of drywall. Thin wood strips (lath) were nailed onto the framing as a base for the sand/lime plaster (see diagram).


---
Load-Bearing Point
A point where a bearing or structural weight is concentrated and transferred to the foundation.


---
Load-Bearing Wall
Includes all exterior walls and any interior wall that is aligned above a support beam or girder. Normally, any wall that has a double horizontal top plate.


---
Low-Voltage System
Provides security, entertainment, communications, environmental control, networking, and other functions generally powered by a signal cable, phone line or data cable. Is not typically metered.


---
Nonbearing Wall
A wall supporting no load other than its own weight.


---
Palladian Window
One larger window with a circle top window above and usually has two smaller, rectangular windows on each side.


---
Pilaster
A projection or the foundation wall used to support a floor girder or stiffen the wall.


---
Roof Valley
The "V" created where two sloping roofs meet.


---
Slab Foundation
For a slab foundation, the site is leveled off, and a trench is dug around the perimeter of the home site. Gravel is then spread across the site, and concrete is poured approximately four inches thick over wire mesh and a moisture barrier. In areas of load bearing walls, trenches need to be dug to allow for additional thickness at this location. Slab foundations have no piers or floor joists, and the concrete slab is the floor system.


---
Trombe Wall
A passive solar wall, usually masonry or concrete, used for passing heat from one room (like a sun room or solar garden room) to another.


---
Walk Through
A final inspection of a home before "closing" to look for and document problems that need to be corrected.


---
Wall Out
When a painter spray paints the interior of a home.


---
Related to : home, mortgage, insurance, homebuyer, real estate, property, buy home, home insurance, financing, home financing, home buyer, first time homebuyer, homes, homebuying, credit, condo.