Definition of Resilient Channels

Resilient Channels
Metal channels used to further inhibit sound transmission through wall and ceiling framing. Create a break in the vibration path from drywall to the framing.


---
Related Terms:
A flat ceiling with a raised center portion.


---
An arched ceiling.


---
Corrugated Metal or concrete barrier walls installed around a basement window to hold back the earth.


---
Framed walls (generally over 10' tall) that run the entire vertical length from the floor sill plate to the roof. This is done to eliminate the need for a gable end truss.


---
A construction method in two-story homes in which the frame is reinforced with posts and braces.


---
Rounded drywall corners.


---
A device which looks like a switch and is usually located inside the electrical panel or circuit breaker box. It is designed to (1) shut of the power to portions or all of the house and (2) to limit the amount of power flowing through a circuit (measured in amperes). 110 volt household circuits require a fuse or circuit breaker with a rating of 15 or a maximum of 20 amps. '220' volt circuits may be designed for higher amperage loads e.g. a hot water heater may be designed for a 30 amp load and would therefore need a 30 amp fuse or breaker. also see GFI


---

A ceiling with recessed square panels, bordered with trim for ornamental purposes.


---
A ceiling with no change in elevation.


---
The triangular end of an exterior wall above the eaves formed under a gable roof.


---
Marking on recessed lighting fixture indicating that it is designed for direct insulation contact.


---
---
A wall-like structure that supports roof rafters.


---
Includes all exterior walls and any interior wall that is aligned above a support beam or girder. Normally, any wall that has a double horizontal top plate.


---
A Metal channel through which hot air, gas, steam or smoke may pass.


---
Metal Insulation Support
16" or 24" wire rod or crisscrossed wire to hold floor insulation in place.


---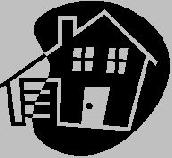 Nonbearing Wall
A wall supporting no load other than its own weight.


---
Tray Ceiling
A decorative ceiling treatment used to add volume and/or height to a room. 2 Common types are: 1) Angled area toward the center leading to a flat ceiling surface, and 2) Stepped square edged leading toward the center of the ceiling.


---
Trombe Wall
A passive solar wall, usually masonry or concrete, used for passing heat from one room (like a sun room or solar garden room) to another.


---
Vaulted Ceiling
A ceiling that angles upward on one or both sides to Create volume in the room.


---
Walk Through
A final inspection of a home before "closing" to look for and document problems that need to be corrected.


---
Wall Out
When a painter spray paints the interior of a home.


---
Related to : home, mortgage, insurance, homebuyer, real estate, property, buy home, home insurance, financing, home financing, home buyer, first time homebuyer, homes, homebuying, credit, condo.